Blog For Free!
Archives
Home
2012 April
2011 August
2010 September
2010 April
2010 March
2010 February
2009 May
2009 April
2009 March
2009 January
2008 December
2008 November
2008 October
2008 July
2008 May
2008 April
2008 March
2008 February
2008 January
2007 December
2007 November
2007 October
2007 September
2007 August
2007 July
2007 June
2007 May
2007 April
2007 March
2007 February
2007 January
2006 December
tBlog
My Profile
Send tMail
My tFriends
My Images
Sponsored
Create a Blog!
Alpha Male by Lannon McGregor
04.09.12 (7:33 pm) [edit]
Alpha male has broken his cage

Gnaws on bones and rusty blades;

"Hard as fuck!" his snarls say,

His breath is warm, rotten decay.

Fangs are yellow, with rabid foam,

Arms are inked up, flexing tone,

Chest is pumped up, breathing slow,

Dressed-up peacock - head to toe.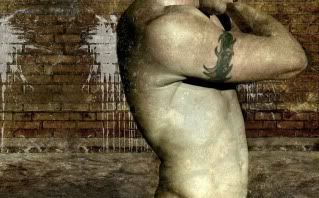 Lives in flashy, cool success.

Skanks swarm to his quick caress,

While his pack scavenges on those he's left;

And howl - these horny, lonely pests.

Those who fly outside his flock,

Watch in silence, hushed they scoff,

"It''s not so great" they whisper soft,

But who wouldn't love to be on top?




Career Rehab by: Lannon McGregor
08.18.11 (6:59 pm) [edit]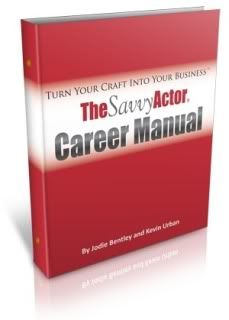 Attention celebrities: Has your career lost its spark? Do you suddenly find yourself waiting in line, like a schmuck, at your favorite restaurants? Has your agent stopped returning your phone calls? Well Dr. Drew has just the prescription to rejuvenate your career and help you get back on top. Well, at least to the middle. The program's called 'Celebrity Rehab, the unscripted television series that cuts right to the heart of your most private affairs. Just pick up your nearest crack pipe. and/or bottle of scotch, and check yourself into the Pasadena Recovery Center. Why detox in private when you can do it in front of the glamorous eye of the camera?At the Pasadena Recovery Center you'll find yourself surrounded by some of the most talented professionals in the field as well as some of Hollywood's top D-list stars. People such as:Michael Lohan, Amy Fisher, Dennis Rodman, Heidi Fleiss, and the great Tom Sizemore! Notice the instant change in your popularity as people get to see a depiction of the real you instead of the spoiled celebrity they're used to. Take Steven Adler for example (the original drummer forGuns n' Roses). Adler was kicked out of GNR for his drug problems (which is a lot like being kicked out of Rome for being Catholic) but with Dr. Drew's help, he has become one of the most lovable heroin addicts doctors on television.So don't hesitate. Visit the Doctor and get your name back on the B-list where it belongs.


Enter Shakira Music Review By Ian Albrecht
08.18.11 (5:05 pm) [edit]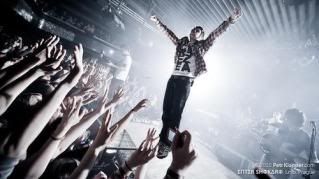 Enter Shikari is an electronically influenced/ enhanced, hardcore 'screamo' rock band who have received a lot of play on my ipod during this last year. Enter Shakiri formed in St. Alban's, Hertfordshire. in 2003. Since then they have released three albums: their debut, Take to the Skies, Common Dreads, and Destabilise. Their label, Ambush Reality (est. 2006) currently only lists Enter Shakiri in their stable of artists. The band recently noted that much of their stock was affected by a fire started during the 2011 England Riots.) The members of the band are: Roughton "Rou" Reynolds (lead vocals, keyboards, acoustic guitar, synthesizers and programming)Liam 'Rory' Clewlow (backing vocals and guitars);Chris 'Batty C' Batten (backing vocals and bass), and finally, Rob Rolfe (drums and percussion). Their individual abilities and sounds mesh together into a perfect musical blend, similar to the group Story of the Year's members.As I mentioned, I've been playing this CD consistently since last Fall, and I consider each of its songs to be 'golden'. (A hard feat, given how critical I can be.) There are two songs I'd like to highlight (for anyone new to Enter Shikari) They are Mothership and Sorry, You're Not a Winner. Mothership has an all-round cool, haunting sound combined with unnerving structure; reminiscent of System of a Down. Mothership charted as "single of the week" when it was released on itunes. It has an unpredictable blend of trance and hardcore. You cannot settle into an Enter Shakiri song, and predict the upcoming melody because they'll deliver something totally unexpected. Sorry You're Not a Winner (my favourite) is simp... awesome - great vocals, amazing guitar, wicked bass, thrashing drums, mad hook, intelligent lyrics and a good mix up of trance electronics. As well, another interesting feature is the band's incorporation of the audience(crowd. Gamers should recognize this song from 08 NHL's EA Sports video, and Madden 08. (Interestingly, Enter Shakiri's released songs continue to chart high, despite never being released in a physical format e.g. on CD or on vinyl. (This was purposely done at the band's request.) Another unusual fact - Enter Shakiri is the second unsigned (by choice) band to sell out a concert at London's Astoria. Clearly, this is a band we'll be shadowing for some time to come. Get Destabilised today - you won't regret it. (But you may regret the time you wasted not knowing of their existence). Here is a sampling of Enter Shikari's nominations and awards. 2010: Nominated for Best British Band 2009: Nominated for Best Live Band 2007: Won Breakthrough Artist of the Year 2007: Won Best Band Live 2007: Won Spirit of Independence 2007: Won Rock Sounds magazine's poll for Who's going to make it? 2007: Won John Peel Award for Musical Innovation 2006: Nominated for Best British Newcomer Don't be surprised if Enter Shakiri's next release is less synthesizer and more post hardcore. They got our attention by blending two unlikely sounds (trance and hardcore): now we'll wait for them to discover yet another spiraling, uncharted soundscape. Enter Shakiri's quote: If you stand for nothing, you will fall for everything. Go to: http://www.entershikari.com

08.18.11 (5:04 pm) [edit]
Our Lady Peace at The Vogue, May 13, 2010 By Christine Albrecht
09.05.10 (1:40 am) [edit]
Concert Review By: Christine Albrecht Vancouver's Vogue Theatre Our Lady Peace's current tour is advertised online as the band's attempt

" ... to recreate our Clumsy and Spiritual Machines records in their entirety on two separate nights. We have chosen some of the country's most historic and majestic theatres to insure the sound and lights will be of the highest quality ..."

Highest quality, indeed. Our Lady Peace chose a beautiful venue,

Vancouver's Vogue Theatre

, and its newly updated acoustics magnified every off-key note, as well as enhanced every mellifluous moment, the band experienced. In contrast to the venue's historical architecture, was an added giant video screen. Images bombarded us throughout OLP's set; images mirroring, sometimes enacting, the songs' lyrics and their variety of emotions. (I suppose the screen was for those of us suffering sensitivity-recognition-disabilities). Talk about flogging a dead horse.Released in January of 1997,

Clumsy

, was a beloved CD amongst young Canadians (selling enough units to garner diamond status). I effortlessly learned all "Clumsy's" lyrics due to innumerable, impromptu karaoke presentations, courtesy of the tweens I worked with in '97/ '98.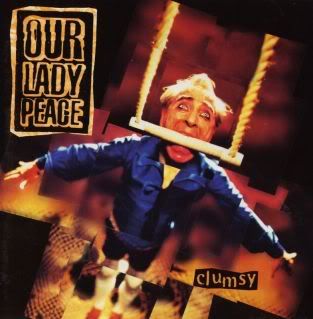 amazon.ca image I, and my co-reviewer, Ian Albrecht, had been eagerly anticipating this evening for weeks. With no opening act to politely tolerate, we were presented with Our Lady Peace on time, and the crowd appeared thrilled (translate - extremely loud) to re-experience OLP's Clumsy. To reinforce fan expectations, Raine Maida introduced the gig stating that

Clumsy

would be played in its entirety (enthusiastic response), followed by a brief intermission, after which OLP would conclude the concert with a "free for all" (more audience enthusiasm).True to his word, Raine Maida (vocals), Duncan Coutts (bass), Jeremy Taggart (drums), and Steve Mazur (guitar) played the Clumsy CD completely through. To be fair, especially after you read on, We'd like to note the drum, and guitar, playing throughout the gig was incredible. It should also be noted that

Taggart's

drumming was especially outstanding during

Car Crash

and

The Story of 100 Aisles

.

and Mazur's

playing was consistent throughout the set.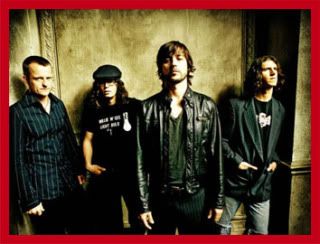 OLP site imageThe first indication that something was amiss was during the first song,

Superman's Dead

. Both Ian and I were uncomfortable with Raine's distanced delivery. It appeared he was singing a set of songs that he clearly held no love for. Dismissing this as first song jitters, we waited/waded through the band's entire set before delivering a mutual decision. Raine did not love the album

Clumsy

with the same fervor as his adoring fans. Granted, Raine Maida has not used his so-called "signature" nasal/falsetto earlier OLP voice since the release of their 2002 album,

Gravity

. As I watched Raine sing into the mic, I noted each time the higher-pitch, nasal-falsetto "Maida note" was required, we were met with loud, distorted bass feedback. Initially, I dismissed the distortion as a sound hiccup. By the fifth disruption, I realized its well-timed recurrence made it a "gee, it's-hard-to-hit-those-high-notes", but no one will ever know, convenience. It must be frustrating for Maida to attempt a tone that had been forgotten for 10 years, just to appease the nostalgia of OLP fans.While Raine chatted about when and where Clumsy's songs were conceived; (as well as which song he never liked, it became further apparent that he wasn't receiving any pleasure performing the set. The only time I noticed genuine warmth in his (very attractive) face was while the audience was singing his songs, or during the crowd applause/enthusiastic response/ or individual fan interactions. Perhaps he was finally indulging OLP's Clumsy fanatics, after years of ignored requests. Maybe he realized he needed to remind fans that Our Lady Peace was still around, especially on the eve of releasing their next album. Online, OLP spokespeople have alluded that the next album will see OLP returning to their early roots. I don't buy that. Not after watching this performance. I am pretty sure Raine Maida would like to leave his "early"roots as far behind as possible.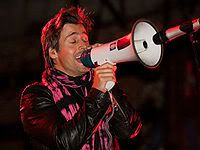 wikipedia photoWhen I wasn't feeling uncomfortable for Mr. Maida, I was feeling indifferent (I suppose whatever Raine had, was catching). Maida never spoke of a song that held any significance for him; no song was lovingly referred to as having a specific memory or event. I finally gave up expecting anything.When I looked around, I decided I didn't need OLP to share their favourite tunes or memories because I was more interested in the lives and experiences of those surrounding me. I bet I could find a book's worth of material in OLP's audience. You could actually see some fans being transported away to a time when these songs meant something to them.The audience's median age was 25, and they appeared to come from all walks of life. I was entertained with how an initially "laid-back" concert-goer would suddenly perk up, and lean forward as the first few notes of a song were played. I was impressed with the amount of men, and women, who were openly emotional with the lyrics of

Carnival

. I realized that this crowd didn't care how Raine Maida's delivery was tonight - they came to see OLP perform songs from an album, and an era, that held special meaning for them. Each one of Clumsy's songs was '

somebody's

favourite. For many, I think tonight's concert was a cathartic release.

Both Ian and I agreed that the highlight of the evening was watching OLP's fans

. Listening to the crowd singing the songs back to Raine made me re-examine lyrics I so robotically hummed in the past. E.g. 4:00 a.m. was the standout song due to audience participation. Our Lady Peace should be proud of producing a piece of art (Clumsy) that impacted so many Canadians, in so many ways. I recall Raine mentioning that some filming was occurring; I hope the camera captured the crowd's range of responses: from reflection, to ecstasy, to misty-eyed recollection, and finally to rapture.We came to hear

Clumsy

, and after receiving what we came for, we left. We couldn't be convinced that OLP's 'free-for-all" would be worth staying for, especially since we felt disconnected from the singer since the first song. As well, Raine's lackluster approach did not convince us

Our Lady Peace

were on tour to "

recreate the record

" as advertised. The only thing recreated tonight, was the audience's collective response to an album that deeply affected them back in 1997. And

the highlight of the evening (for Ian and I) will always remain the audience's rendition of the song, 4:00 a.m.

. The sincerity and emotion in their voices, as they sang the words to Raine, just about had me crying. The fans outperformed anything Our Lady Peace could have (and should have) mustered up.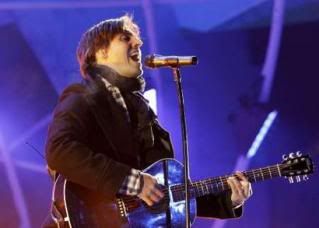 pegasus concert imageVisit our other Sites Myspace, Blogspot, and BuzznetCheers, Christine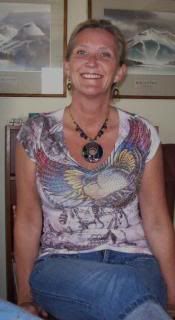 Facebook Under Fire for Privacy Blackmail Potential By Christine Albrecht
04.24.10 (12:13 pm) [edit]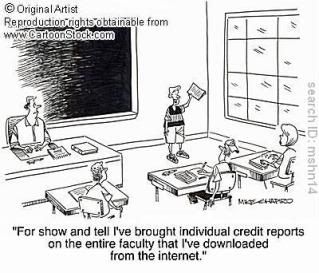 swanktrendz myspace Here's an article I read an hour ago. When I read articles such as this, I admonish myself for not trusting my 'gut'. Every time I sign up for one of these 'social networking' sites, something inside tells me I am making a poor decision, yet I will push the hesitation aside and carry on. Of course, if I feel too many personal questions are being unnecessarily asked, I will rarely sign on to a new site. I am always curious why they need that information for a site that merely wants to allow people to connect with each other? I understand EBay's, or Paypal's, need to confirm addresses etc. as they are a retail/money business, but why for social networking? I'd like to think I am clever enough to know that Raddim Naherlari, the wealthy banker from Nairobi, is not someone with whom I need to continue email correspondence. But in hindsight, considering the information that I have released online, I'm not that clever at all. I have a Facebook account, in fact, I have two. One account I acquired simply for playing word games without any concern regarding the information I supplied and whether it is shared or not. For those unaware, Facebook carries many third-party games, and activities. As soon as you attempt to receive a cyber 'gift', disclaimers pop up requiring you to release your information in order to continue. Well, my second account idea was not that clever after all, and my cautious approach has been in vain as any 'friend' listed on my Facebook page may have inadvertently already released my information because he/she opted to sign onto a game. As soon as someone linked to my page, opens their page for scrutiny, I become a part of that scrutiny simply through default. It's a shame, really, as I like the social-networking premise of Facebook. The platform has allowed me to find old friends who had simply moved on - people whom I have always wondered about. I've also found people I've needed to thank because of some impact they (unknowingly) made in my life. Facebook has allowed me these opportunities. I am sure there is another social net-working program right around the corner, waiting to be launched. We'll all jump on the bandwagon and Facebook will become less used, much like Myspace; still useful, but not relied upon.


Oscar dust-up: He got Kanye'd by Lauren Beckham Falcon
03.09.10 (5:57 am) [edit]
Boston Herald Source

Oscar dust-up: He got Kanye'd I have to share an article I read online by Lauren Beckham Falcon. I found it to be highly amusing, as well as timely because I had just finished a conversation with a friend during which I referred to an Oscar incident as being a "Kanye repeat". When I read Lauren's article, I realized I was not alone with my habit of creating new jargon based upon pop-cultural events. I do not have permission to reproduce this article, so don't be surprised if it is gone tomorrow, but my post is meant to be entirely complimentary. Today's vocabulary lesson: Producer Elinor Burkett didn't interrupt "Music By Prudence" director Roger Ross Williams when she grabbed the mike during his Oscar acceptance speech Sunday night. She Kanye'd him. Kanye: v. To steal someone's spotlight by interrupting them during an acceptance speech. (Origin: the 2009 MTV Video Music Awards when Taylor Swift won for Best Female Video and rapper West stormed the stage, took her mike and said, "Yo, Taylor, I'm really happy for you and I'mma let you finish, but Beyonce had one of the best videos of all time.") As for the Burkett/Williams Oscar beef, it's reportedly been brewing for a year. Burkett, the producer of the award-winning documentary short, says she and Williams disagreed on the creative direction of the film, so she voluntarily removed herself from the project. Yet she insists she should have accepted the award. Williams disagrees, claiming she didn't belong anywhere near the stage. Either way, we're all winners. They have their gold statues. We have a new way to describe misconduct. But why stop with Kanye? He's not the only celebrity whose behavior deserves a place in dictionary.com. Mayer: v. To say too much. (Origin: John Mayer's Playboy interview in which he called Jessica Simpson "sexual napalm," used the N-word and revealed he won't sleep with black women.) Usage: "I totally Mayered my job interview when I said I can't really get my act together before 10 a.m."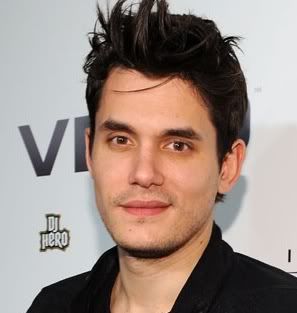 Bale: v. To lose your mind with a co-worker. (Origin: Christian Bale's 10-minute "Terminator" rant.) Usage: "Rahm really Baled when I told him we didn't have enough votes to pass the bill. It was crazy awkward and people left the room."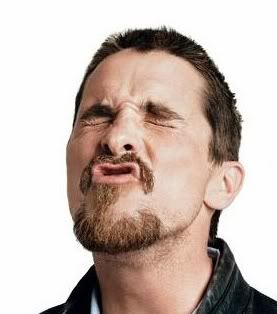 Lohaned: adj. Having so thoroughly abused yourself that you look like an 87-year-old, heavy-drinking sunbather from Miami at age 23. (Origin: Lindsay Lohan. See also: Dina Lohan, Michael Lohan and Ali Lohan.) Usage: "All the booze and sun from my week in Cabo has left me Lohaned. I need an intervention and microdermabrasion immediately."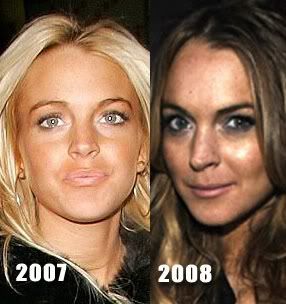 Katie: v. To be brainwashed by an older man and his money and power. (Origin: Katie Holmes.) Usage: "Jen has been completely Katied since she started dating that crazy investment banker. He's a jerk, but he just bought her front-row seats to Taylor Swift and is taking her to the Vineyard next weekend."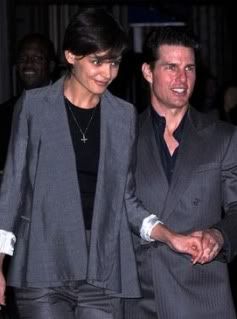 Farrah: v. Overshadowed and ultimately forgotten. (Origin: Farrah Fawcett, who died a few hours before Michael Jackson, expunging her obit from the front pages; and she wasn't even mentioned in Sunday's Oscar tribute to stars we lost last year.) Usage: "I got a B-plus on my book report, but was Farrahed by my older sister, who scored a full scholarship to Stanford." Swank Home
Swanktrendz Myspace Home
Swanktrendz Vancouver Buzznet



Yikes, Time to get Back to Work
02.25.10 (5:53 pm) [edit]
I've had a nice holiday from writing (almost a year!), but lately, I feel I miss writing. It occupies my thoughts 24/7. I let go of swanktrendz.com because I found blogger and tblog were getting more monthly hits (the highest on swanktrendz.com was 40,000 per month, whereas tblog and blogspot are more. So I suppose I should stick with what works (and what is financially feasible, e.g. free). So don't give up on Swanktrendz quite yet, as we are alive and well. I really enjoy the t-blog community (unless there are changes I should be aware of). Anyone feel the need to update me? Keep me bookmarked, I'll be writing, soon Christine Albrecht
The Hitchhiker By: Lannon McGregor
05.10.09 (4:44 pm) [edit]
Visit Swanktrendz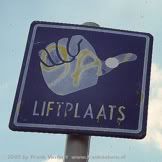 His soul has long been sold. He walks close alongside death; His legs are growing old. In fact, getting older with each step taken. His body shakes in waves of panic, As he walks amongst the stars. Calm twilight, sidewalk graves, And the highway's hissing cars. They said he'd appreciate a mile of sun, When he had walked a mile of rain. But lonely storm clouds can't be outrun, And show little signs of change. The wetness weighs him down, And now he struggles with each step. His heavy eyes loathe the sight of ground, And his lungs draw tired breaths.


Japanese Rockers, FACT: Accident Cancels Concert Tour By: Christine Albrecht
04.20.09 (11:45 pm) [edit]
Visit Swanktrendz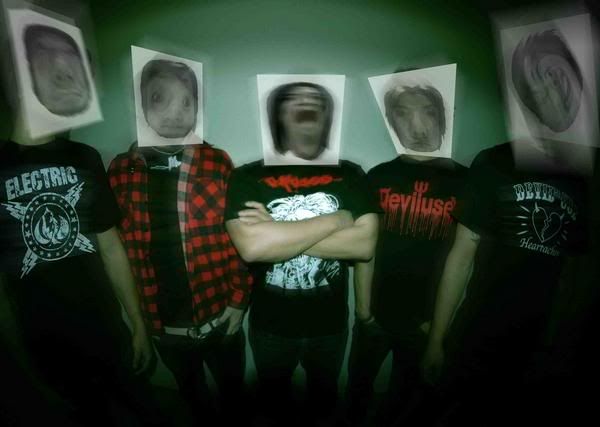 Both good and disappointing news were received by many FACT fans on April 14, 2009. On the same date the Japanese rock band's self-titled debut, Vagrant/Maximum FACT, was being released, they were involved in a serious van accident on Interstate 85. The band was on their way to an Altoona, PA. gig from Montgomery, AL. when they were struck by a Chevy 'Malibu' which had crossed the median. The two vehicles collided head on, flipping FACT's 15-passenger van onto its side. (Charges are pending against the driver of a third vehicle which allegedly forced the Malibu into the median.)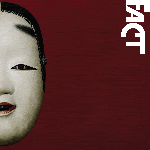 Drummer Eiji suffered a broken arm; singer Hiro sustained a concussion, while the other members received mild injuries. Relief was expressed at the news that tour manager, John Kim's, internal injuries were not as serious as originally reported. The most serious of the injuries were broken ribs (as reported by Elizabeth Richardson of the Times-Herald). The band cancelled their final two US concert dates as well as cleared their Canadian bookings (to be rescheduled at a later date) in order to recuperate in Japan.The members of FACT are: Takahiro (guitars, vocals), Tomohiro (bass, vocals), Eiji (drums, vocals), Hiro (lead vocals), and Kazuki (guitar, vocals).Drop the members of FACT a note at their myspace page.Visit (Label) Vagrant's website.


Come to Canada: Big Acts/Small Venues (A Common Occurrence) By Christine Albrecht
03.23.09 (8:44 pm) [edit]
Great Bands Play Awesome Venues in VancouverI pulled out my January, 2008, Spin magazine and did a flip-through to determine if I should save or recycle the publication. I do not like to throw out any music magazine, but I equally dislike magazine clutter, so I force myself to critically evaluate if the issue is a keep'er or toss'er. It's not uncommon for me to have a second or third read-through of Spin's archives, so as I was reacquainting myself with January's articles I noted several familiar names. The names are familiar because I just posted an update of Vancouver concerts. As I noted familiar headliners, I had to take a second look at the booked venues. How is it that up and coming, popular musicians, sell out mid-sized arenas throughout the world, yet continue to be booked into small venues while touring Canada?This is not the first time I have puzzled over the Big-Act/Small-Venue Canadian phenomenon. In the early '90s I attended a Radiohead gig at Vancouver's The Town Pump (recently known as Sonar). The Town Pump was a small pub/dance club in downtown Vancouver which allowed an audience of approximately 400+ patrons. The club's booking manager kept musically 'current', often bringing in top talent who could sell out 5000+ venues anywhere else (than Canada). Richard's on Richards is a similarly sized venue.Lykke Li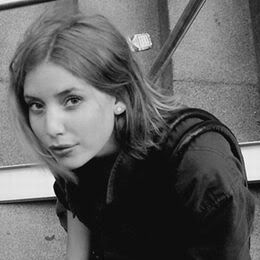 and The Charlatans UK will be playing at Richard's on Richards.
As well, the extremely popular The National played there in 2007.I'm not sure of the reason for currently popular bands being booked 'down' in Canada, but I'm always grateful for the 'up close and personal' experience. I often wonder how the performers reacted to the venue. Were they surprised, appalled, embarrassed, oblivious, annoyed, or indifferent? Canadian concerts spoiled me as I now refuse to attend a concert if the venue holds an audience larger than 1000 (using The Commodore Ballroom as my quota template). The Commodore's capacity limit is advertised as 990, but sardine-packed audiences at sold-out gigs appear 'fuller'.TV on The Radio will be playing the Commodore on Sept. 7th.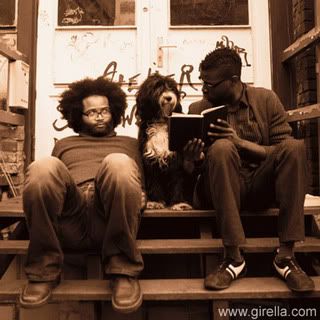 Canada's knack for showcasing amazing talent in contrarily matched venues consistently baffles me. The only explanation I've arrived at is our nation's tendency towards delayed appreciation. The Fine and Performing Arts rarely receives priority status in the media. As a teen, I was reliant on local/national Canadian media for my music news, and our country remained six months to over a year behind the rest of the world. Although the Fine and Performing Arts are still largely under-reported, the internet has allowed music lovers to fall into sync with similar-minded fans around the world. However, the average Canadian concert-goer still depends on the media to alert him/her to an upcoming concert rather than proactively seeking updates.With an 'audience alert' in mind, here is a sample of upcoming performances by artists presently riding a popularity wave. And to avid fans of specific bands - Canada may be your last chance of viewing your favourite musician(s) in a more intimate setting (and you won't need a video screen to see them perform). I may not understand the reasoning, but I appreciate the bang-for-yer-buck entertainment outcome.September 1st - Estelle - The Commodore Ballroom (capacity 990)The London rapper/singer/producer (Shades of Lauren Hill) coos her 'American Boy' hit .... groove from will.i.am that's way better than his half-baked crap. Spin MagazineSeptember 7th - TV on the Radio - The Commodore Ballroom (Capacity 990)... one reason TV on the Radio gets listed among the best American bands of their generation is because their free-ranging sound... Rhapsody Mp3 Spin Magazine 2008's Artist of the Year.October 8th - The Charlatans UK - Richard's on Richards (Capacity 400)...played a number of high-profile supporting gigs during the summer of 2007, including for The Who and The Rolling Stones, at venues including Wembley Stadium and Twickenham Stadium in London... WikipediaOctober 16th - Duffy - Croation Cultural Centre (Capacity up to 1000)
Duffy's rise to success has been remarkable. She already has a number 1 single under her belt, as well as critically acclaimed TV performances and is the current darling of the music industry.
October 17th - Sara Bareilles - The Vogue (Capacity 1150)achieved success in 2008 with the hit, 'Love Song', which brought her into the number one spot on the Billboard Pop 100 chart. WikipediaOctober 28th - Lykke Li - Richard's on Richards (Capacity 400)... the Swede of the month... tentative, tuneful love song, 'Little Bit', is buoyed by wispy indie-tronic production...To see more upcoming concerts go to Swanktrendz Concert Listings.
FYI: Capacity Numbers for Vancouver's Musical Venues BC Place: 59,687UBC Thunderbird Stadium: 21,500GM Place: 14,000Vancouver Coliseum: 16,123

PNE Forum (Vancouver Forum): 5050

Agrodome: 3260

Queen Elizabeth Theatre: 2931

Orpheum: 2780

Malkin Bowl: 1500

Chan Centre: 1400

Vogue Theatre: 1150

Red Robinson Theatre (Casino): 1074

Plaza of Nations: 1000

Croatian Cultural Centre: 30 to 1000 (7 available rooms)

Commodore Ballroom: 990

Vancouver Playhouse: 668

Stanley Theatre: 650

BC Enterprise Hall: 500

The Town Pump/Sonar: 450

Richard's on Richards: 400

The Red Room: 400

Media Club: 150
All Aboard the Internet: Sola Caritas by Lezah Williamson
03.23.09 (8:26 pm) [edit]
I'm all for things that make our world a better place, and simply by googling Sola Caritas and watching a couple of ads, you too can help to make our world a better place.Sola Caritas is the brainchild of an amazing young guy I know, David Wen. Along with some partners, he has created a website where you can help send money to charities - and it doesn't cost you a red cent! Gotta love that!It's brilliantly simple:  businesses team up with the Sola Caritas website, which in turn runs ads for said businesses. Every time you watch one of these ads on the Sola Caritas website (for free, I remind you), 50% of the ad fees get sent to a charity.  The more clicks, the more money. This brilliant idea found Sola Caritas take 1st Place at Dalhousie University's EcoVenture 2008, (Canada's first ever green business plan competition.)Easy peasy.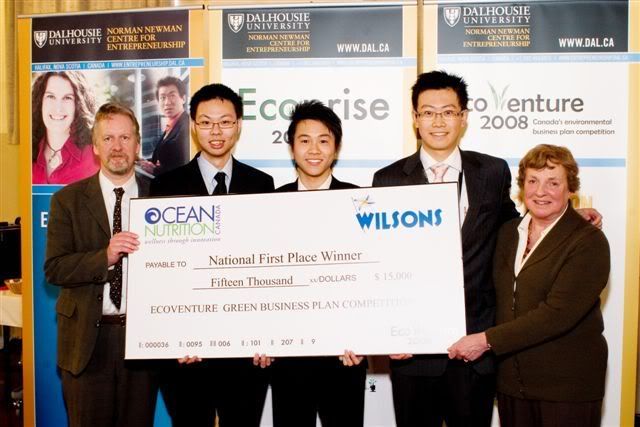 Visit Swanktrendz
Book review: Water for Elephants By: Lezah Williamson
03.23.09 (8:22 pm) [edit]
Visit Swanktrendz
A friend of mine loaned me Water for Elephants by former Vancouverite Sara Gruen. It's a love story filled with animals - what could be better, I ask you?Set in the Great Depression (I'm a sucker for Depression-era stories), Water for Elephants is the story of Jacob Jankowski, a young man who, a week before he sits his final exams in Veterinary Medicine at Cornell University, has the rug pulled out from under him. His life, both as he knew it and as he envisioned it, is gone; in a fit of despair, he runs off and jumps the first train out of town.Jacob has leapt, unknowingly, into the lion's den. He finds himself hooked up with a second rate circus that criss-crosses the country, looking as much for the next score as for other failed circus outfits to cannibalize. The cast of this ragtag crew is probably more entertaining than the pathetic illusions their circus act offers: Al, the boss, envies Ringling Bros. to the point of obsession; Marlena is the beautiful wife of the alternatively abusive and charming August; Rosie is an elephant who can only understand Polish; Blackie, is a brute whose sole purpose seems to be 'redlighting' employees who have outlived their usefulness; Kinko is a dwarf who puts up walls around him so high that no one can get in; and Camel is an old drunk who paves the way for Jacob.The story is told from the perspective of Jacob as an old man. Either 90 or 93 years old (what does it matter when you're that age?), he recalls the story while suffering the indignities of old age as they play out in his nursing home. The story explores the bizarre subculture of the circus world, and throughout the book, black and white photos illustrating aspects of the circus world evoke the difficult life those people led.Water for Elephants was on the NYT Best Sellers list for over 55 weeks. Fox 2000 has acquired the movie rights to the novel, and is said to be fast-tracking the project. Francis Lawrence (I Am Legend) has signed on as director.


Glowing Review for Vancouver's Glowbal Grill and Satay Bar By Lezah Williamson
03.23.09 (8:19 pm) [edit]
Visit Swanktrendz
Glowbal Grill and Satay Bar is a restaurant located in the Yaletown district of Vancouver (1079 Mainland Street). Situated in an area that had previously been a warehouse district and is now filled with trendy shops, restaurants and luxurious condos, Glowbal is a perfect fit with its neighbourhood.My friend and I popped in on the last night in February; we had just had snow two days previous, and when the waiter asked if we wanted to sit inside or out. I must admit I looked at him a little askance. However, he led us out onto the patio, and I have to admit, it was the right choice. There was plenty of street ambience, so much so that it took me back to my trip to Paris last year. But unlike Paris, at Glowbal I was warm! We were there for two full hours, and I was comfortable and warm the whole time - in fact I not only shed my jacket, but also my sweater. (That rarely happens anywhere for me between the months of November and March!) And the outdoor patio was lovely in other ways, too - the decor was upscale casual. Inside, it was a little more nightclubby, and so that patio fit our mood better. Next came the food: my friend decided she wanted to share appies rather than eat an entrée each, and that suited me fine. We ordered sweet potato fries first - and they weren't even on the menu, but the chef was kind enough to accommodate us. Next we had a Baby Spinach Salad with warm pancetta vinaigrette ($12), oven-dried tomatoes, saffron egg, buffalo mozzarella and candied pecans. This was not at all overwhelming in size, but it left me feeling very satisfied. The melding of the sweet and the savoury was fantastic. Next up was the lobster mashed potatoes ($10) and the grilled lamb chops ($15), which the waiter brought to us on a long plate for our convenience. While the lobster mashed potatoes was fine, it wasn't something I'd order again; the lamb, on the other hand... I haven't stopped thinking about it! Between you and me, I haven't eaten lamb since I owned a pet lamb, and I was somewhat reluctant to try this. But it was lovely and tender - absolutely delectable. Finally, dessert: in keeping with our sharing theme, we chose the Pastry Chef's Dessert Selection (($12), which gave us a pot of creme bruleé (the best I've ever had!), a warm chocolate coffee cake (which I had misread on the menu as a lava cake, so was a bit disappointed with at the time - but I got over that!), and a white chocolate mousse (smooth!! creamy!!). Truly the best restaurant dessert I've had in a long, long time. On top of that, their coffee was great. For me, that's the all-important crux that is missing in many dining establishments.And for all you single ladies out there: Glowbal has what is undoubtedly the finest stable of male employees I have ever laid eyes on. It looked like they had raided the files of every modelling school out there to come up with their wait staff. These guys are hot! In fact, I don't recall even seeing a female employee there, although I could be mistaken.The executive chef at Glowbal is John Crooks, and yes, reservations are recommended.


Annie: A Theatrical Review By Lezah Williamson
03.23.09 (8:16 pm) [edit]
Where: Vancouver: The Centre for the Performing Arts, March 5, 2009Visit SwanktrendzWe went to see Annie on March 5th; not being a fan of the original comic strip, I certainly wasn't familiar with its print format, and although I will admit to having seen the movie, I must have been on drugs or something, because I had the story completely wrong.
In case you're not familiar with the story, here's a brief overview:
< Annie is set in the depression in New York. Annie is a resident in an orphanage, but unlike the other 'abandoned' children, Annie was dropped at the door with a note stating that her parents would be back for their darling daughter as soon as they had some money to support the family. The parents left Annie with half a silver locket; the other half would be produced by the parents as proof that Annie was rightfully theirs when they came to claim her. Because of this, Annie was far more independent than the other orphans, and was a frequent runaway. Miss Hannigan, an alcoholic who runs the orphanage, was constantly on the look out for Annie's next escape. Annie does successfully manage to run away, but is caught and returned to the orphanage. Meanwhile, Grace, the assistant to the very rich Daddy Warbucks, has shown up to 'borrow' an orphan for the Christmas holidays. Annie is spotted, and the deal is set. Similar to the Ann of Green Gables story, it was a boy he had in mind, but he begrudgingly agreed to keep the girl - only to decide to adopt her. Complications arise when Annie reveals that she has a 'real' set of parents out there somewhere; further complicating the issue is Miss Hannigan's unscrupulous brother and his girlfriend Lilly, who decide to pretend they are Annie's parents in order to get the reward posted by Daddy Warbucks.
Being a story for kids, this has a happy ending. 'Nuff said.We saw the Broadway production that is currently touring North America. So, understandably, the sets and costumes were very professional looking. Annie is being played by Madison Kerth, and although she acted well, her voice just grated - alternating between a scream and bellow. On the contrary, AnnaLisa Leaming, who plays Grace, has an absolutely lovely voice. Another standout was Lynn Andrews as Miss Hannigan.


Passages (1932 - 2009) - John Updike By: Lezah Williamson
01.30.09 (2:07 am) [edit]
Visit Swanktrendz

"The great thing about the dead, they make space.
quoted from: Rabbit is Rich, by John Updike). And so it goes. John Updike died today, Jan. 29, 2009, once again, proving himself right. Updike was born in Pennsylvania in 1932; was a Harvard grad who twice won the Pulitzer Prize for Rabbit is Rich and Rabbit at Rest. He is best known for his Rabbit series, as well as his chronicling of suburban adultery in small-town- USA, as seen in novels such as The Witches of Eastwick.But Updike was also a poet, short story writer, art critic and literary critic. Altogether, he wrote 25 novels in his career, while working for The New Yorker and the New York Review of Books. In addition to these accomplishments, he was featured in an episode of The Simpsons, and he also enjoyed writing childrens' books.Although Updike had suffered from a skin condition for years, it was lung cancer which determined his final ending.Image from s.matrix.msu.edu
John Updike Fan Page
The Watchman (Is It Worth The Wait?) By: Lezah Williamson
01.30.09 (2:05 am) [edit]
Visit Swanktrendz

One of the most highly anticipated films for spring 2009 must surely be The Watchman. Based on the graphic novel of the same name, it is directed by Zack Snyder. Legal battles over distribution rights between Fox and Warner have pushed back the release date, but that looks to be settled now; rumours last year had fans worried when the movie was clocking in at just over three hours. Likewise, a fantastic first trailer was followed by a much weaker one. Add to that a storyline and cast of characters that many feel will be hard to translate to the big screen in a meaningful way, and you've got a whole lot of people waiting with bated breath until March.My prediction: it'll be worth the wait. The story, set in an alternate 1985 America, where superheroes are a part of everyday life, is a strong one. Writer of the graphic novel, Alan Moore (V for Vendetta, The League of Extraordinary Gentlemen, Swamp Thing) is a legend. The film's director Snyder has vowed to stay as true to the graphic novel as possible. He has also, apparently, worked some CGI magic with main character Rorschach's mask which can only add to the overall effect.All in all, this film will be a good one to watch for.


Lie to Me - Best on TV Emmy, Anyone? By Lezah Williamson
01.30.09 (2:03 am) [edit]
Visit Swanktrendz
The best new show out on TV now is Lie to Me, starring the fantastic British actor Tim Roth (Reservoir Dogs). The show, which started airing this week (Wed. Feb. 21) is inspired by a real life deception specialist - in other words, a human lie detector. The main character works for a private agency that is contracted to the FBI, but you also see the more human side of Roth's character in his interactions with his peers. Overall, this show was well written and, with Tim Roth on board, really, you can't go wrong.

DOLLHOUSE - New Television Show to Be Aware of - By Lezah Williamson
01.30.09 (2:02 am) [edit]

Here's a new show to watch out for: Dollhouse.Originally, Dollhouse was to start airing in January of 2009, but has been pushed back. Written by Joss Whedon (Buffy the Vampire Slayer, Firefly) and starring Eliza Dushku ("Faith" in Buffy the Vampire Slayer), the show is set around a group of individuals whose personalities have been wiped clean so that they can be parachuted into new lives, where they gather information and help create 'situations'. They return after each assignment to the Dollhouse; complications arise, however, when the FBI starts sniffing around. Likewise, main character Echo (Dushku) starts to remember - it turns out the memory erasing didn't stick with her.
Visit Swanktrendz
Modern Pirate: By Lannon McGregor
01.17.09 (8:38 am) [edit]
Visit Swanktrendz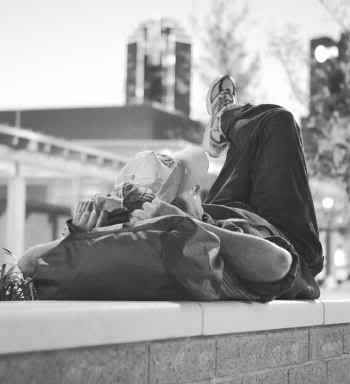 Pirate man,Is using hands,While digging cities' garbage cans.Sucking Blood,Rolling Mud,Eating - Breathing, The cities' sludge.There he sleeps,On cracked concreteWakes up wide-eyed, incomplete.With a shopping cart,He's modern art,Grudgingly fed from the bottom of our hearts.Worn out soulsIn both heart and shoes.But never stole,That he can't use...
L.M


The Curious Case of Benjamin Button :Movie Review and Critique Christine Albrecht
01.16.09 (1:36 am) [edit]
Visit SwanktrendzRead Fitzgerald's Original Story Here. Directed by David Fincher

Original Story written by F. Scott Fitzgerald

Starring:

Brad Pitt (Benjamin)

Cate Blanchett (Daisy)

Julia Ormand (daughter)

Before launching into a nit-picking, plot-questioning critique of The Curious Case of Benjamin Button, I wanted to share a few film, and theatre odds and ends with the readers. The 2008 release of The Curious Case of Benjamin Button (here on in noted as 'The Curious Case...') provides an interesting twist to the original short story (written by F. Scott Fitzgerald, in 1921). Ray Stark held onto his "The Curious Case..." screenplay for years. Years after Stark's '04 death, David Fincher purchased, directed, and released 'The Curious Case...' to rave reviews - especially for its artistic efforts in costume and make up.I purposely went to the 4:30 p.m., Boxing Day show, at Langley's Colosseus Cinema (during a nasty snow storm) envisioning a deserted theatre, mine for the taking. Instead, I turned the corner and found a packed house. I clearly underestimated the average movie-goer's fortitude, or the loyalty of a Brad Pitt/ Cate Blanchett fan. Then again, perhaps movie-goers are a hardy group who ascribe to the same creed as postal workers. While watching this movie, I mentally hummed the chorus to an old tune by The Faces entitled, Ooh La La. "I wish that I knew what I know now... when I was younger..."Who hasn't had a brief yearning to go back in time, yet be empowered with one's current knowledge? Through Benjamin Button's eyes, we're granted a brief replay of past dangerous naivety and interludes of awkwardness. However, this time we are empowered with wisdom and experience. Through Benjamin Button, we are able to step in and address - or wisely let pass - situations as they naturally unfold and present themselves.After viewing "The Curious Case..." I was unable to gauge any kind of audience reaction, as this movie threw a heavy blanket of silence on everyone. I have never attended a show where the audience didn't verbally assess the experience on their way out. If quiet introspection was capable of sound - like a car horn - our exiting would be on par with a New York Taxi Drivers' convention. A cacophony of deep thought.Both the book and the movie version of "The Curious Case ..." contain the line "I was born under unusual circumstances..." and this is where the similarities end. I readily admit that I understand the purpose of the differences as I am not fond of Fitzgerald's main, brazen character.We all hate getting older, but who would actually want to get younger as they progress through life? To knowingly await the agonies of painful adolescence? Experiencing the powerlessness and dependency of early childhood, while still cognizant of the lifetime one had experienced? No thanks. Yet that is what Brad Pitt has managed to portray to viewers, while maintaining a thoughtful and quiet acceptance of his fate.I have glanced through critics' reviews of the movie, and I am confused by their disregard of the glaring discrepancies between the book and the movie. I will be the movie reviewer to address the Benjamin Button elephant in the room because, after all, he's huge!Benjamin Button had the misfortune (or to some, good fortune) to be born an old man. Our character enters this world as a baby, albeit an arthritic, slow moving, cataract impaired newborn. The movie dramatically shows Benjamin being rejected by his father (after his mother dies during his birth) and subsequently abandoned. The book has Benjamin being emotionally abandoned, but nonetheless, remaining at home where his old-man behaviours are a source of embarrassment to his father who constantly demands that Benjamin behave more childlike. Aside from peripheral characters entering and leaving Benjamin during his formative years (which helps explain his varied education and philosophies) the book and movie differ in many other areas. The most serious digression from the original is in Benjamin's aging process. Fitzgerald has his protagonist born with an 85 year-old's thoughts, behaviour and attitude whereas Fincher's movie has the character physically representing an 85 year-old, but mentally on par with a newborn. As the book-Benjamin becomes more immature, in keeping with his age defying appearance, the movie Benjamin becomes more worldly and wise while physically regressing.I understand the reasoning behind Pincher's version of Benjamin Button's aging. Overall, Fitzgerald's original character is not a likable guy; meanwhile there's something bittersweet in watching movie-Benjamin experience his first drink, first love, etc. as an 18 year-old man housed in the body of a 65 year-old senior. Movie-Benjamin is more appealing to the average viewer than 7 year-old, book-Benjamin smoking cigars, cursing, and leering at woman.The movie contains a few changes that I didn't understand as necessary. Why is Benjamin abandoned at an old folks' home in the care a single, financially strapped, black woman (Taraji P Henson)? Henson delivers an outstanding performance as Benjamin's adoptive mother, Queenie, but how necessary was this change to the story's telling? I am grateful for the entertainment of the old folks' home setting as it allowed for a nice introduction to the developing love story between Daisy (Cate Blanchett) and Benjamin (Brad Pitt).
As well, some of the seniors residing alongside Benjamin at the home, provided the much needed comic relief during an otherwise somber movie. For example, the comedic, intermittent presence of "The General" whose self-introductory line to Benjamin is consistently, "Did you know I've been struck by lightning 7 times?" We are then given a visual of The General being struck.I wondered if the writer(s) felt Benjamin wouldn't have been able to explore his 'firsts' during early manhood if his parents were around, or more vigilant? (However, that implies adoptive/foster parents are less aware of their children's behaviour or whereabouts.) As well, why couldn't his movie father have maintained the book father's hardware business? Why did the movie allow a simplistic 'button manufacturer' as the family business? As well, if they wanted Benjamin to be perceived as an abandoned orphan, why reintroduce his father (aside from to explain an inheritance)? Finally, although less melodramatic, the movie's ending would be equally touching to view baby-Benjamin nestled in bed, near his Nana in the home of his son, Roscoe (book), than in the arms of his lover, Daisy (movie). I will admit I was sucked into the movie's predictable moment when infant Benjamin and aged Daisy lock eyes, and exchange a fleeting moment of complete recognition and acknowledgement. Like a silent farewell. So corny, yet so wonderful, necessitating the folded arms, stare-at-the-ceiling-and-blink-rapidly, stance.I have always enjoyed Brad Pitt's acting yet I sympathize with him as his undeniable good looks immediately discount any acting talent he possesses; forcing him to work three times harder than the likes of Tom Hanks, Sean Penn, or Jack Nicholson. Cate Blanchett is a perfect counter-partner for Pitt, visually and in spirit and timing. The make-up/ visual effects artists responsible for the characters' aging demonstrated remarkable talent, as they allowed us to witness the characters realistically age, or de-age in Benjamin's case. Daisy gracefully ages from the feisty, stunning dancer to a bedridden senior resisting removal from her hospital care during the Hurricane Katrina disaster.Julia Ormond's character (as Benjamin's and Daisy's daughter) was so milquetoast, she could have been invisible. She was simply the vessel whose questions allowed Daisy to recollect and share her untold youth. Throughout the flashbacks of Daisy's recollections, I had difficulty determining which time period showed Pitt's and Blanchett's characters as they are in reality. The make-up effects should merit an Oscar nod.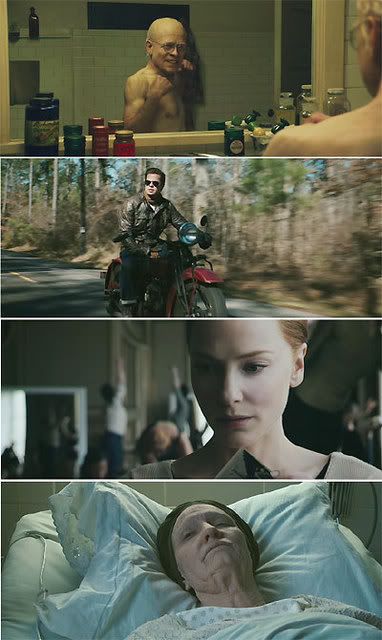 I suppose, in order to make money, it was decided that "The Curious Case..." should evolve as a love story, one which supports the 'love can surpass both time and age' rather than keep with F. Scott Fitzgerald's razor-sharp, sardonic look at society's celebration of youth, and open disdain towards aging. If that story had been kept, there wouldn't be much to love as book-Benjamin figuratively holds a mirror up to a class-conscious society, thus reflecting the absurdity of placing importance upon appearance and material accumulation. Both the book and the movie do drive home the importance of character. It's what inside that counts. Movie-Benjamin has 'character' in spades.I enjoyed the movie, just as I enjoyed the short story (see link to story below), and I am grateful that never the two did meet. The two versions are so vastly different; combined, it couldn't have worked. Perhaps someone will come forth with a modified 3rd version; one which nicely melds the original and movie version. I have heard there is another story out which offers more depth to Fitzgerald's original plot. Perhaps this is the third view I am searching for. It is also titled the The Curious Case of Benjamin Button and is written by Nunzio DeFilippis and Christina Weir (with illustrations by Kevin Cornell). For scenic views, Pitt's and Blanchett's artistically balanced acting, masterful make-up (10/10), and for allowing Benjamin to be portrayed as a likable character, I give the movie 8.5/10
Pick Ton By: Lannon McGregor
01.10.09 (5:49 pm) [edit]
Visit Swanktrendz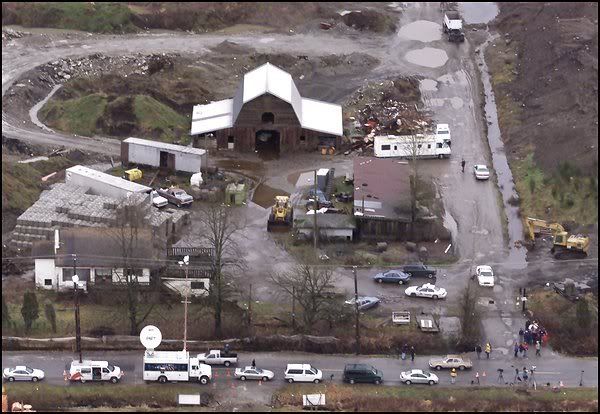 A few police in ol' B.C.Searched Willy's farm,and found some teeth.The rivers swelled,As numbers tolledand ANGELS fellWhere HELL runs cold.See the hate in Willy's eyes, See all the twisted ways to die.Ask the pigsFed and bigOh, if only they could talk.They'd sniff at the mudin thirst of blood,and tell you of the meat Willy brought.They'd watch the Mounties' patience boil,While digging deep through Willy's soil.They can't wipe their hands from the stench of shit,They've seen a lot, just not this sick.They've seen rape; they've seen dead,But they can't see the HATE in Willy's head. Rot In Hell! L.M.
Remember The Women.
A Bean to Pick with Starbucks by Lannon McGregor
12.28.08 (5:15 pm) [edit]
Visit Swanktrendz I woke myself from a short sleep to greet Monday with saggy, heavy eyes. The morning air was topped with a crispy crust of fog with a mist and cloud-filled center. Habit forced me to stop for my usual Starbucks' fix. Lucky for me, I had half a dozen Starbucks' outlets to choose from during my five-minute walk to the Sky Train Station in downtown Vancouver. While I was waiting for my Venti Americano (aka extra-large coffee), I impulsively grabbed a bottle of water and paid $1.99 for this 'seemingly' normal beverage. Now, allow me to confess; I am not known for "paying" for water. Call me crazy, but I believe the freshness of water tastes just the same from the tap as it does bottled (aside from the general smug feeling one gets from the obviously elitist choice to pay for water), and such was the case with my purchase of Starbucks' "Ethos" water except Ethos had a promotion which spoke to my innermost humanity.After looking at the heart-tugging, subliminally prompting, (the image was of clearly thirsty Africans) and reading the "Help the World", or some equally similar hippie-bullshit promotion, I assumed that my Ethos water-purchasing-coins would contribute to implementing change in an otherwise, impoverished country.And then I scanned the information on the back label which read:
... only 10 cents of my $1.99 contribution would go towards building wells for villagers in Africa...
and, I've gotta tell you, I was appalled. Here's a company which can afford to put two outlets directly across the street from each other, but can't afford to dish out more than 10 cents per bottle towards the promoted charity? Yet somehow they can justify charging two bucks for a bottle of water, by disguising the sale as a lame-ass excuse for a humanitarian mission instead of as the marketing ploy it is? I mean 10 cents? C'mon! That's not even 10% of the proceeds yet the charitable aspect is 90% of their campaign to sell the product. It's ridiculous to think we have to pay as much as $2.00 for water just to get a company to take some responsibility in helping someone.This whole scheme is marketing at its best. We are always force fed guilt like it's our job, as middle class working stiffs, to help the poor whom these corporations are generally getting rich from. Why do we have to buy a happy meal from billionaire corporations like McDonalds just to encourage their (tax-deductible) charitable contribution of 10 cents to Childrens' Hospital?Corporations are the only groups with the means to help and provide REAL change, yet time and time again they are ignoring their obligations by constantly passing off the responsibility to their consumers by using these charitable marketing schemes to play on our compassion.The funny thing about it is, I passed a homeless man on the way in who asked me for change and I told him to get a job. Had I given the clearly, alcohol-dependent man the $2.00 I spent on the water, at least I would have been giving to a more immediate cause, rather than having my money sucked into the vacuum of a faceless corporation. After all, everyone's gotta drink something.On the plus side, I am glad to see Starbucks do SOMETHING for a country they have been raping for all these years. I wonder how much those Ethiopian bean pickers make per hour?I wonder if it's more or less than a bottle of Ethos water?I hear it's awful hot over there...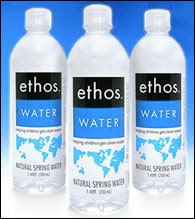 Transporter 3 Movie Review By: Ian Albrecht
12.04.08 (9:02 pm) [edit]
Just so you know, my youngest son has decided to start posting his reviews of music and movies on Swanktrendz. Due to his young'ish age (12)- Go easy on him (or Mama Bear will roar, heh!). Actually, I warned him he was on his own and he has to take the good with the not so good (responses to his writing). Given he is an official 'tween', I think he's doing all right. Enjoy!Although I was initially excited at the prospect of seeing the third installment of the Transporter movie trilogy, I couldn't help but come away from the theatre feeling largely underwhelmed. The main character, Frank Martin, (played by Jason Statham)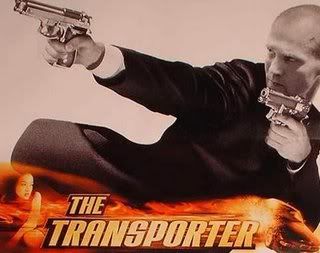 receives his latest assignment involving the delivery of a 'package' from "Marseilles to Odessa on the Black Sea." However, Martin's European 'delivery' is not without (predictably) at least one 'twist'. Furthermore, his usual 'delivery' method is hampered by his being outfitted with a wrist device that will ensure explosive death and destruction if Frank ventures beyond 75 feet of his vehicle.Unfortunately, this 'twist' immediately brought to mind the movie, Speed, as the underlying premise/theme is similar. E.g.: If the main hero alters/changes his course, in opposition to the villain's projected demands, the outcome will be life-threatening mayhem.I openly admit that Jason Statham did an excellent job despite being given an average script; containing some gad-awful dialogue, as well as plenty of clichés reserved for "bust 'em up/ bang 'em up" movies. Moreover, Statham's acting should be noted for his having to respond to (with a straight face) his co-star, villain, Robert Knepper as Johnson. But more about Knepper, later.Of course there is the standard love interest between the Prime Minister of Ukraine's daughter, and our hero, Frank. Despite how important her character is to the movie's central plot, (her role is played by Natalya Rudakova) ... I could NOT recall her character's name! I had to google both the character's and actor's name (which turns out to be Valentina). This does not bode well for any actor attempting to make her mark in the 'biz'. As well, despite her character's important addition to the plot, as well as to the "twist", Rudakova did not leave any impression that would make us a) want to know her name or b) care to learn who was performing the role.François Berléand, once again played Inspector Tarconi, (Frank Martin's sidekick/closest thing to a best friend) and, once again, Berléand did a solid and consistent job at injecting some humour and the occasional dramatic urgency into an otherwise, lukewarm role. The main villain was one of the 'worst' villains I've seen, and I did not buy into/believe in his character for one minute, I would label his acting as "old school"; as in, I would liken Transporter 3's villain to the original Joker from the black and white television series, Batman.Overall, the plot for Transporter 3 was dull, been-there-done-that, and simply pathetic (with exception to anything being blown up, or any computer generated excitement.) Then again, these effects should be a 'given' in any action movie genre.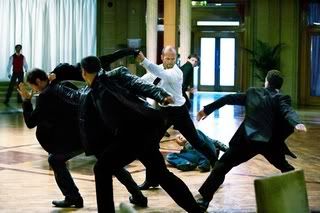 So, why do I say pathetic? When the audience is thrown subplots, or extra information that is even more unbelievable than the movie's, "villain character's" acting... Well? What would you call it? For example, the police department and the government learn the villain's real name and location, and rather quickly, in the movie. At least in other espionage/action flicks, the bad guy will toss out a couple of red herrings to keep the "good guys" and audience wondering what's going to happen next. I was able to predict this movie's plot and ending, but it's times like this when I hate to be right. I guess the most intense guessing, wondering or predicting I did during the 90 minutes was... trying to figure out when the movie was going to end? Is this movie worth spending cash at the box office, or is it a wait-for-the-DVD type of flick? Definitely a wait for the DVD, as it is the most disappointing movie of the trilogy and will, no doubt, go straight to video within three months. 1.5/5 (and the half point was strictly for the guns, explosions, and computer generated effects. And, 1 point to Jason Statham for doing a good job in a stinker of a movie).


The 10 Best Lies I Ever Told by Mike Gillis
11.16.08 (9:06 am) [edit]
Visit Swanktrendz The ten best lies I ever told were: 1. No sir, officer. Not a drop. 2. Oh yeah baby... totally circumcised. 3. No, I'm not tired. And I totally feel the same way you do. 4. Nope. just mustard. Old mustard. 5. They're for climbing. 6. Ha ha ha ha ha ha ha! 7. I know. Santa's totally fake. 8. Oui. 9. Innocent, Your Honor. 10. N'no no. Jus' tell me, ni'll remember.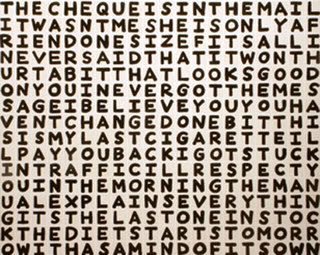 String of Lies graphic image by: Tad Lauritzen Wright BTW: As I was searching for an image to attach to Mike's article, I happened across a blog entitled ron-day.com. I browsed through the site and thoroughly enjoyed the art section (see the site's outside-art link). I suggest you visit and let Ron Day et el know Swanktrendz sent you. (Editor) A Site worth Browsing Visit Mike


This is not a 'new' blog, it is merely an adjustment on our old tblog. To 'connect the dots' visit Our Old tblog Home